News Archive
vna/J 3.1.12
NEW !!!! Expert Electronics Dealer für die Schweiz
SDR Transceivers

• Receive frequency range: 9 kHz – 65 MHz & 95 – 148 MHz
• Direct HF sampling receiver (DDC, Direct Down Conversion)
• Transmit frequency range: all ham radio bands from 160m to 10m, plus 6m, plus 2m VHF (cofigurable)
• Direct synthesising of the transmit signal (DUC, Direct Up Conversion)
• 100 W transmit power on HF, 50 W on VHF
• Receiver with 16Bit ADC @160MS/s
• Two independent receivers with up to 312 kHz waterfall and spectrum width each
• Up to 80 MHz wide panorama spectrum width
• Extremely short latencies, ideal for CW, direct audio output on the transceiverwith 24 Bit DAC
• Input for external 10 MHz hi-precision clock
• Optional built-in antenna tuner (HF)
• Connections for transverter and external filters
• 7 programmable control and sequencer outputs (open collector)
• ALC input for automated adjustment of transmit power when using an amplifier
• Full and half duplex operation [1]
• Power supply, 100-240V AC input, 50/60Hz
• Built in computer with Mini-ITX Board (Intel Core i5 @3GHz, 8MB RAM, 128GB SSD, HDMI/DP, 4x USB3, 2x USB2, 1x GBit-LAN)
• 7" screen (1280 x 800 px resolution)
• Windows 10 installed ready to use
• ExpertSDR2 Software included in shipment, installed ready to use
• Extensible functions by any PC software (Decoder, Logger, Skimmer etc.)

5699.- CHF
6499.- CHF (mit ATU)

• Direct Sampling Transceiver

• Internal antenna switch - 2 HF antennas

• ALC connector for external power amplifiers

• External control connector with 10 open collector keys

• Galvanic isolation in LAN iinterface

• Polarity reversion protection

• Built-in power-meter HF/VHF bands

• Built-in SWR-meter HF band

• SO2R, SO2V modes

• Remote control operation

1499.- CHF


• For direct conversion is used a high speed ADC 125 MHz 14 bit
• Two independent receivers with 312 kHz bandwidth in 0.09-55 MHz frequency range
• Oversampling receiving up to 800 MHz
• Wide bandscope with bandwidth up to 60 MHz
• High quality 24 bit audio codec on board
• 7 programmable switches with open collector to control the external devices
• Interface to PC 100 Mb/s, supporting DHCP Server/Client or static IP address
• Low power supply voltage 5 V and current 0.7 A
• 10 MHz reference input
• Mute control for connecting to classical transceiver
• Small size
• ExpertSDR2 software is free, works under OS Windows, Linux

599.- CHF

NEW! YAESU DR-2XE C4FM/FM VHF/UHF Digital Repeater

- Modulation Modes: Conventional FM, C4FM Digital
- Automatic Mode Select (FM/C4FM)
- 3.5" Full Color Touch panle Operation
- Extremely reliable, high RF Output Power: 50 W / 20 W / 5 W
- Front panel microphone connector
- Advanced Operation: Remote control via rear panel Control I/O
- Dual Receive Operation
- Improved "News Station", sharing of voice and text messages
- Group Monitor
- Stable High Power Output with karge heat sink
- Commercial grade components for long-term reliable operation
- Internet-linked Multi-site Repeater System (IMRS)
(Available soon)
NEW! YAESU FT-891 HF/50 MHz 100 W All Mode Transceiver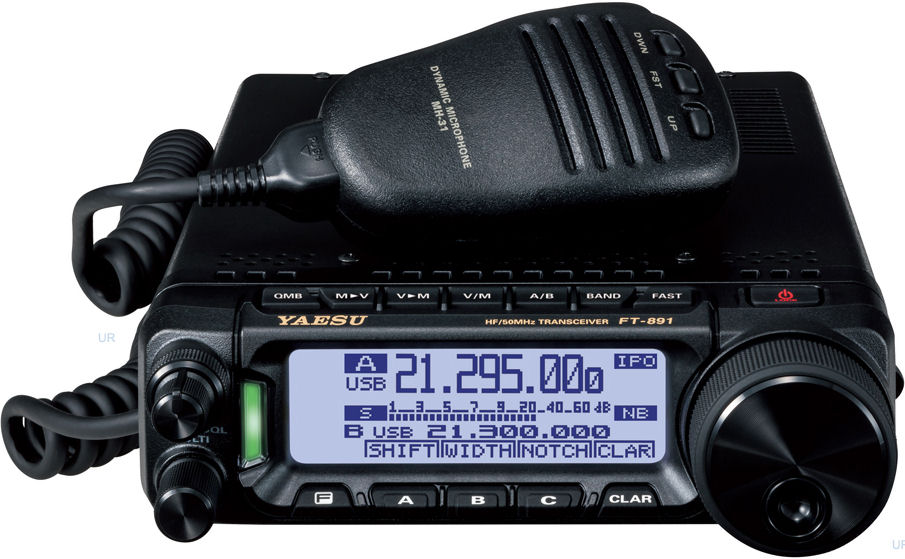 - Rugged construction and ultra compact (155 x 52 x 218 mm)
- Stable 100 W Power Output with dual interal fans
- Legendary Yaesu Receiver Design
- Triple conversion with a 1st IF frequency of 69.450 MHz
- 3 kHz roofing filter equipped as standard
- Detachable Front Panel for convenient mounting and operation
- Large dot matrix LCD display with Quick Spectrum Scope
- Ease of Operation
Large diameter Main Tuning Dial
Pop-up Menu for quick easy operation
Multi Function Knob
Large Transmit/Receive indicator
Three Programmable Front Panel Function Keys
- Specifically designed External Antenna Tuner FC-50 (option)
(Available soon)

NEW! FTM-3100DE CFM VHF Mobile Transceiver 65W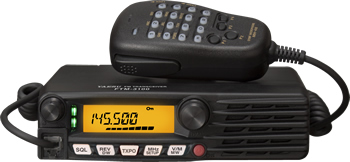 - 65W transmit power in FM
- Large LC display, backlit
- 220 memory channels
- Automatic Repeater Shift
- Transmitter from 144 to 146 MHz
- Receiver from 136 to 174 MHz
- DTMF Microphone with backlit keys
- Direct frequency entry with microphone
- CTCSS, DCS Squelch functions and signalling
- Hi stability ±2.5ppm TCXO built in
- Programming of memories and cloning over USB computer interface

(available in May 2016)
NEW! FTM-3200DE C4FM/FM VHF Mobile Transceiver 65W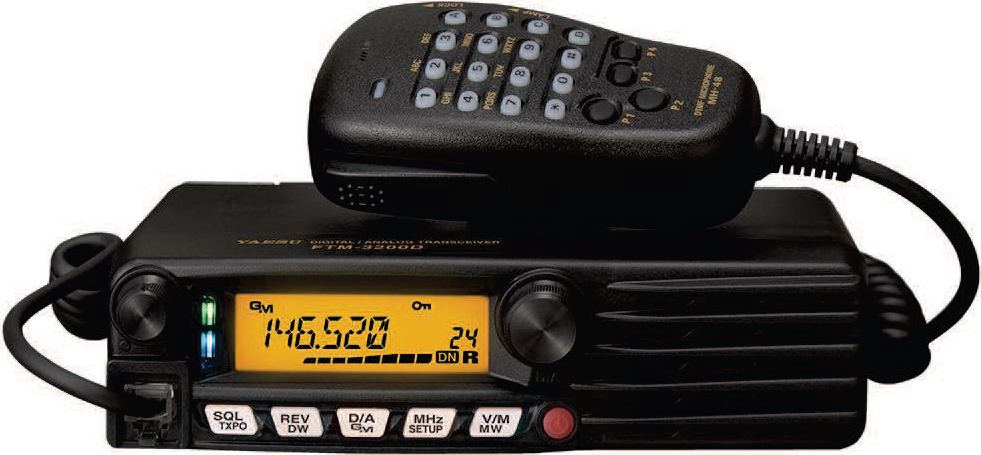 - 65W transmit power in FM and C4FM
- Automatic Mode Selection FM/C4FM
- Digital GM (Group Monitor) function
- Large LC display, backlit
- 220 memory channels
- Automatic Repeater Shift
- Transmitter from 144 to 146 MHz
- Receiver from 135 to 174 MHz
- DTMF Microphone with backlit keys
- Direct frequency entry with microphone
- DSQ, CTCSS, DCS Squelch functions and signalling
- Hi stability ±2.5ppm TCXO built in
- Programming of memories and cloning over USB computer interface

(available in May 2016)
NEW! Vertex Serie VX-260 und EVX-Link
Vertex Standard VX-261, VX-264 und EVX-Link

Die VX-260 Serie bietet die ideale Kombination aus Funktion und Leistung für mehr Effizienz, Zuverlässigkeit und Interoperabilität. Erfahren Sie, wie Sie mehr für Ihr Geld bekommen - mit Vertex Standard.
Eine Verbesserung der Reichweite ist mit EVX-Link einfacher als je zuvor. Dieses kleine und leichte System stellt die die neueste Entwicklung in der digitalen Technologie dar und bietet eine Lösung, die schneller, flexibler und kostengünstiger ist. Mit EVX-Link können digitale DMR-Funkgeräte an mehreren Standorten einfach miteinander verbunden werden. EVX-Link ist eine mobile und erweiterbare Lösung, die in nahezu jeder denkbaren Situation eingesetzt werden kann. Die Nutzer müssen keine Infrastruktur ersetzen oder einen Repeater verwenden. EVX-Link ist kosteneffizienter als traditionelle Systeme, da IP-Verbindungen genutzt werden können und es mit jeder digitalen DMR-Plattform funktioniert.
NEW! FTM-400XDE & FT-1XDE
Releasing of enhanced version of: FTM-400

X

DE and FT-1

X

DE
We're pleased to introduce the above new products, replacing the current versions of them.
Both of the new FTM-400XDE and FT-1XDE include the improved GPS receivers (66 CH) , supported by the latest GPS technology, providing faster and more accurate satellite tracking.
This important upgrading will minimize considerably the GPS Time-To-First-Fix (TTF), by offering immediate navigation and telemetry functions, granting very attractive and comfortable operation.
Moreover, some advanced features have been added, to both new radios:
- the battery merged to the FT-1XDE is the SBR-14Li (2'200mAh) and the supplied belt clip is the improved alligator type SHB-13 (currently optional);
- the FTM-400XDE is provided with a miniaturized easy-open cap of the top, same as the FTM-100DE, allowing quick and easy firmware updates.
Die ersten FT-2DE sind da!
FT-2DE 2m/70cm Dual band Digital Handheld, 5W, 12.5kHz, C4FM/FM Dual band Digital

The FT2DE is also equipped with AMS (Automatic Mode Select) capability providing FM friendly digital communications that instantly recognizes either digital or FM analog communication and enables co-existance between the various communication modes. In addition, we have also included standard System Fusion features in the FT2DE to make it an ideal digital communication product for all Amateur Radio operators, such as (but not limited to): Snapshot with image data transmitting (requires MH-85A11U), Smart Navigation, Digital Group Monitor (GM) featuring position data and ID data transmitting during transmissions, and full support for the new and robust WiRES-X.
The advanced FT2DE is loaded with various new features such as: 700mW of clear loud audio, Built- in High Sensitivity 66ch GPS with antenna, 1200 bps / 9600 bps APRS® function, Dual watch (V/V, U/U/, V/U), Dual Monitor (C4FM Digital/C4FM Digital), GPS Logging/Recording capabilities, Water resistant (IPX5 Rating), micro SD Card Slot, and 2200mAh high capacity Li-Ion battery.
Product Description
Radio Features: – System Fusion Compatible
- C4FM Digital V/D Mode, Voice FR Mode, Data FR Mode and Conventional FM
- FM friendly digital operation with AMS (Automatic Mode Select)
- Easy Operation with 43 x 43 mm Large Touch Panel Display
- 700 mW Loud and Clear Voice Technology
- Snapshot Image Data Display with LCD display
- Built-in High Sensitivity 66ch GPS with antenna
- Smart Navigation
- Snapshot Function and Transmitting Image Data
- Digital Group Monitor
- 1200 bps / 9600 bps APRS® Function
- V/V, U/U, V/U Dual Watch and C4FM Digital/C4FM Digital Dual Monitor
- Wide Band Receive Capability 0.5 – 999MHz (A Band),180-580MHz (B Band)
- AF DUAL Monitor
- Equipped with microSD Card Slot
- GPS Logger records
Supplied Accessories:
- Antenna (YHA-72 )
- 7.2V 2200mAh Lithium Ion Battery Pack (SBR-14LI)
- USB Cable
- Belt Clip
- Operating Manual
- Warranty Card
* Battery Charger (PA-48) (*You can select either radio packed with/ without Battery Charger.)
Specifications:
Frequency Ranges:
A(Main) Band RX : 0.5 – 1.8 MHz (AM Broadcast)
1.8 – 30 MHz (SW Band) 30 – 76 MHz (50 MHz HAM)
76 – 108 MHz (FM Broadcast) 108 – 137 MHz (Air Band)
137 – 174 MHz (144 MHz HAM) 174 – 222 MHz (VHF Band)
222 – 420 MHz (GEN1) 420 – 470 MHz (430 MHz HAM)
470 – 774 MHz (UHF Band) 774 – 999.90 MHz (GEN2)
B(Sub) Band RX: 108 – 137 MHz (Air Band)
137 – 174 MHz (144 MHz HAM)
174 – 222 MHz (VHF Band)
222 – 420 MHz (GEN1)
420 – 470 MHz (430 MHz HAM)
470 – 580 MHz (UHF Band)
TX: 144 – 146 MHz, 430 – 440 MHz
Circuit Type: NFM/ AM:Double-Conversion Superheterodyne
FM /AM Radio: Direct-Conversion
Modulation Type: F1D, F2D, F3E, F7W
RF Power Output: 5 W (@ 7.4 V or EXT DC)
Channels: 1245
Waterproof Rating: IPX5
Case Size(W x H x D): 62 x 110 x 32.5 mm (w/ SBR-14LI, w/o Knob and Antenna) 62 x 110 x 27 mm (w/o SBR-14LI, Knob and Antenna)
Weight: 310 g With SBR-14LI and Antenna
*Aavailable in Spring 2015
NEW! MFJ-226
MFJ-226

VNA Antenna Analyzer covers 1 to 230 MHz, 1Hz resolution. MFJ-226

(introduced at the DAYTON HAMVENTION)